Givt app
We use Givt as a way of giving to the collection. Givt is an app that allows you to participate in the collection anytime and anywhere.
Giving is simple. Please tap on one of the buttons below to download the Givt app to your smartphone. Then either scan the QR code below or enter our name 'Ipswich Citadel Salvation Army' on the app. Follow the video for further instructions.
All giving is secure and confidential.
Giving with Givt via a QR code works as follows:
During the collection moment, open the Givt app
Choose the amount you want to give and press next
Then choose the second option on your screen: QR code
Scan the QR code with your camera (note – the app may first request permission to access your camera. Press OK to continue).
Finally, press Next to complete the donation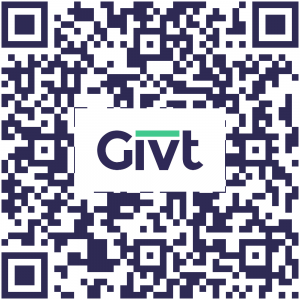 JustGiving
We now have our own JustGiving page where you can donate by either scanning the QR code, or clicking on the JustGiving logo below. All money raised is sent directly to The Salvation Army to support our work in the local community.
Whichever medium you choose to give through, we want to thank you for supporting The Salvation Army.